An article from the Trianel GmbH press office
Start of construction in the Trianel wind farm in Borkum
Borkum / Aachen. "After more than three years of project development, it is now time to set sail for the installation ship," says a visibly satisfied Klaus Horstick, Managing Director of Trianel Windpark Borkum West (TWB).
The first steel pipes for fastening the foundation structures will be erected with the jack-up ship "Goliath" from today in around 30 meters of water 45 kilometers from Borkum.
"The construction site logistics at sea is a completely different challenge than a power plant construction site on land," Horstick describes the task. The 160-meter-high Areva M 5000 wind turbines stand on huge tripods, known as tripods. These 700-ton tripod foundation structures currently being manufactured by Arge Tripod Borkum West II (Weserwind / EEW) in Bremerhaven, are each anchored in the sea bed with three hollow, 100-ton steel pipes, known as piles.
Big Bubble Curtain protects the wildlife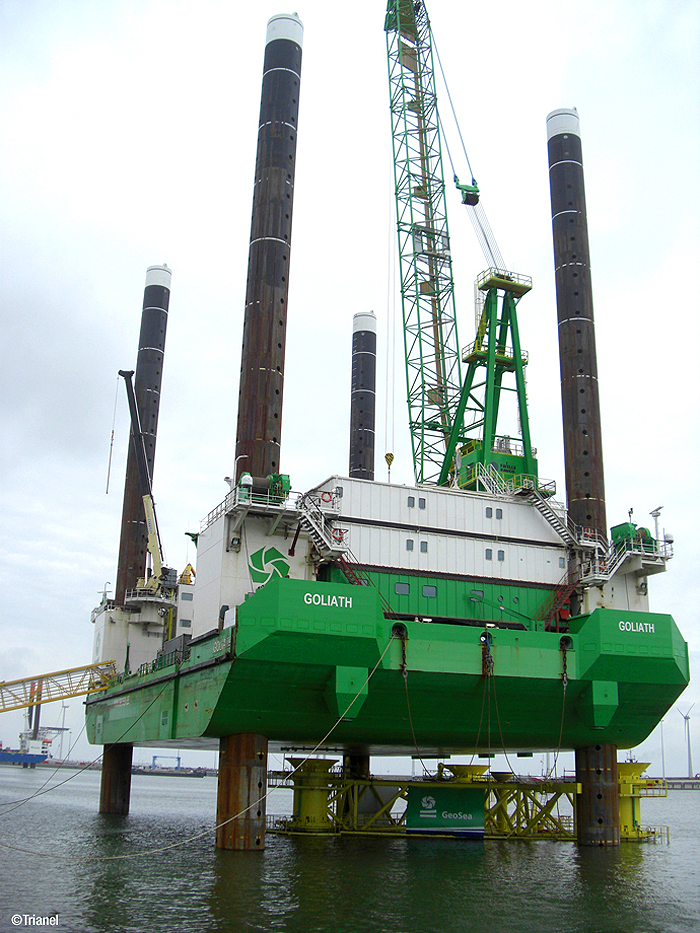 Construction preparations for the first municipal offshore wind farm began in spring. With the preparation for nature conservation measures. The Big Bubble Curtain placed around the construction site to protect the marine mammals were tested on land.
The first tests at sea took place in August. The bubble curtain aims to protect the harbor porpoises, particularly from the pile-driving work's noise for the foundations.
"The procedure at sea is precisely planned," explains Horstick: "The boat with the bubble curtain drives to the planned foundation position to put the bubble curtain around the construction site." As soon as the bubble curtain with its diameter of 100 meters is closed, the construction site is in place; the Goliath drives into the soundproof area. The ship "positions" itself on its four feet, lowered hydraulically to the sea bed. "With its jack-up legs, the Goliath stands firmly on the seabed," says Klaus Horstick.
A ramming template is then placed on the seabed, and each pile is rammed in with up to 3,000 blows of the hydraulic hammer with millimeter precision. The template is necessary so that the steel tubes are at the right distance from one another so that the tripods can be lifted over the piles in the coming spring.
The piles have a diameter of 2.5 meters and a length of 25-30 meters. A longer or shorter pile is used depending on the nature of the soil. "The subsoil was analyzed beforehand by geologists so that we know exactly when to use which pile length," reports Horstick.
The final assembly of the 40 wind turbines of the first construction phase will begin in summer 2012 and be completed in winter 2012/13. At the same time, TWB wants to start delivering electricity. The second TWB construction phase with a further 40 wind turbines is to be started in 2014. Preparations for the implementation of phase II are already underway. The municipal utility cooperation is already considering a follow-up project to Borkum West II.
Image sources: © Trianel platform GOLIATH