An article from the press office of the Federal Maritime and Hydrographic Agency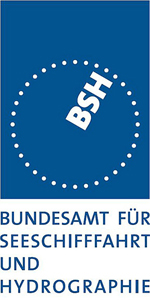 Hamburg, October 13, 2014. The evaluation of the underwater noise measurements carried out in 2014 during the construction of offshore wind farms has shown that the limit value of the BSH for the protection of harbor porpoises can be adhered to almost reliably.
"We have made noticeable progress in reducing noise levels when building offshore wind farms. It is impressive what engineers' creativity has brought about and what innovative solutions for noise reduction have been developed in recent years ", emphasized the President of the BSH, Monika Breuch-Moritz.
Since the start of the construction of the test field for offshore wind energy "Alpha Ventus" in 2009, noise reduction systems have been researched, developed and now used in series for every installation in offshore construction projects. Developed and specified measures accompany the implementation in cooperation with the Federal Ministry for the Environment, Nature Conservation, Building and Nuclear Safety (BMUB) and the Federal Agency for Nature Conservation (BfN).
The use of noise reduction systems in offshore wind farms is necessary to protect the sensitive harbor porpoises, particularly from damage caused by the pile-driving noise. The discussion also showed that there is a need for further research into the reactions of porpoises.
The current state of technical development was discussed on October 9, 2014, in the framework of the workshop "Current findings from the implementation of noise protection measures in the German Exclusive Economic Zone (EEZ)", to which the Federal Maritime and Hydrographic Agency (BSH) had invited. Around 70 participants from authorities, associations, research institutions, and commercial enterprises found out about the current status of noise protection measures and discussed other research and development fields.
The BSH is responsible for the approval and plan approval procedures for offshore wind farms and grid connections in the German exclusive economic zone (EEZ). It monitors the noise protection measures in the construction phase of offshore projects.
The BSH is a partner for shipping, environmental protection, and marine use, which supports shipping and the maritime economy, strengthens safety and environmental protection, promotes the sustainable use of the sea, ensures the continuity of measurements, and provides competent information on the state of the North and Baltic Seas.
The BSH, with offices in Hamburg and Rostock, is a higher federal authority in the division of the Federal Ministry of Transport and Digital Infrastructure.
For questions: Susanne Kehrhahn-Eyrich, Press Officer (BSH), Tel .: 040/3190 – 1010, Mobile: 0151/11 58 85 74