Dredging requires separation of the port basin from the open sea
To protect the waters of the Italian ferry port of Piombino, compressed air is used as a cloud barrier for the first time. The system has a length of 750m and closes the port entrance to the Tyrrhenian Sea. It was put into operation on May 12th by the engineers at HYDROTECHNIK LÜBECK.
Piombino is a city in the Italian province of Livorno. With its historical elements, the city center has been almost completely preserved from the Middle Ages to modern times. Also, Piombino gives the impression of an industrial port city. Mainly through an old ironworks with a coking plant, two blast furnaces, oxygen steelworks, and various rolling mills. In the meantime, however, Piombino also has an important ferry port. It connects the mainland with the Mediterranean islands of Pianosa and Elba. The steel mill, which has now been shut down, has been largely responsible for the heavy pollution of the harbor basin from the past. Heavy metal residues have settled in the sludge of the harbor basin over the years. To dispose of these contaminated sites, the harbor site is being dredged at two points. The resulting sediments are held back by the compressed air barrier. To protect flora and fauna, they are not allowed to enter the open sea.
Compressed air underwater can be used in many ways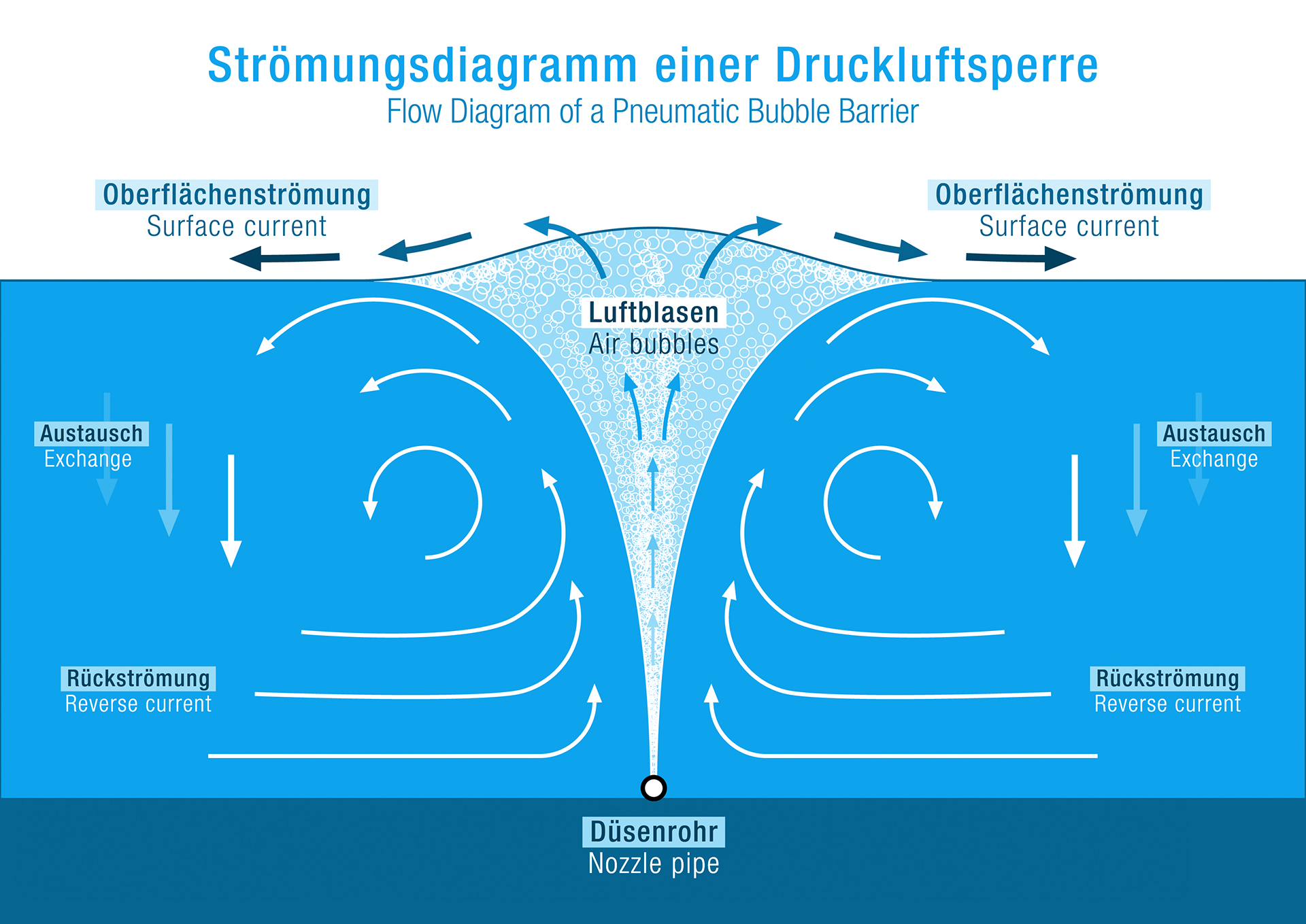 Basically, the compressed air barrier installed on the seabed is ideally suited for this task. When compressed air rises in the water, it creates a strong current. This current prevents the exchange of water. The ferry traffic from Piombino will not be affected by the barrier. The ships go over it. Using compressed air as a cloud barrier is new. Nevertheless, it makes sense, as the operation is extremely environmentally friendly and almost maintenance-free. However, there is a limitation in how it works. If there is a strong water current, the efficiency of the barrier is reduced. The Piombino compressed air barrier is designed for a period of 4-5 years. Government agencies continuously take measurements. These measurement results will make the successful use of compressed air as a cloud barrier verifiable.